Kirstyn's Krew - A 501(c)(3) Non-Profit Organization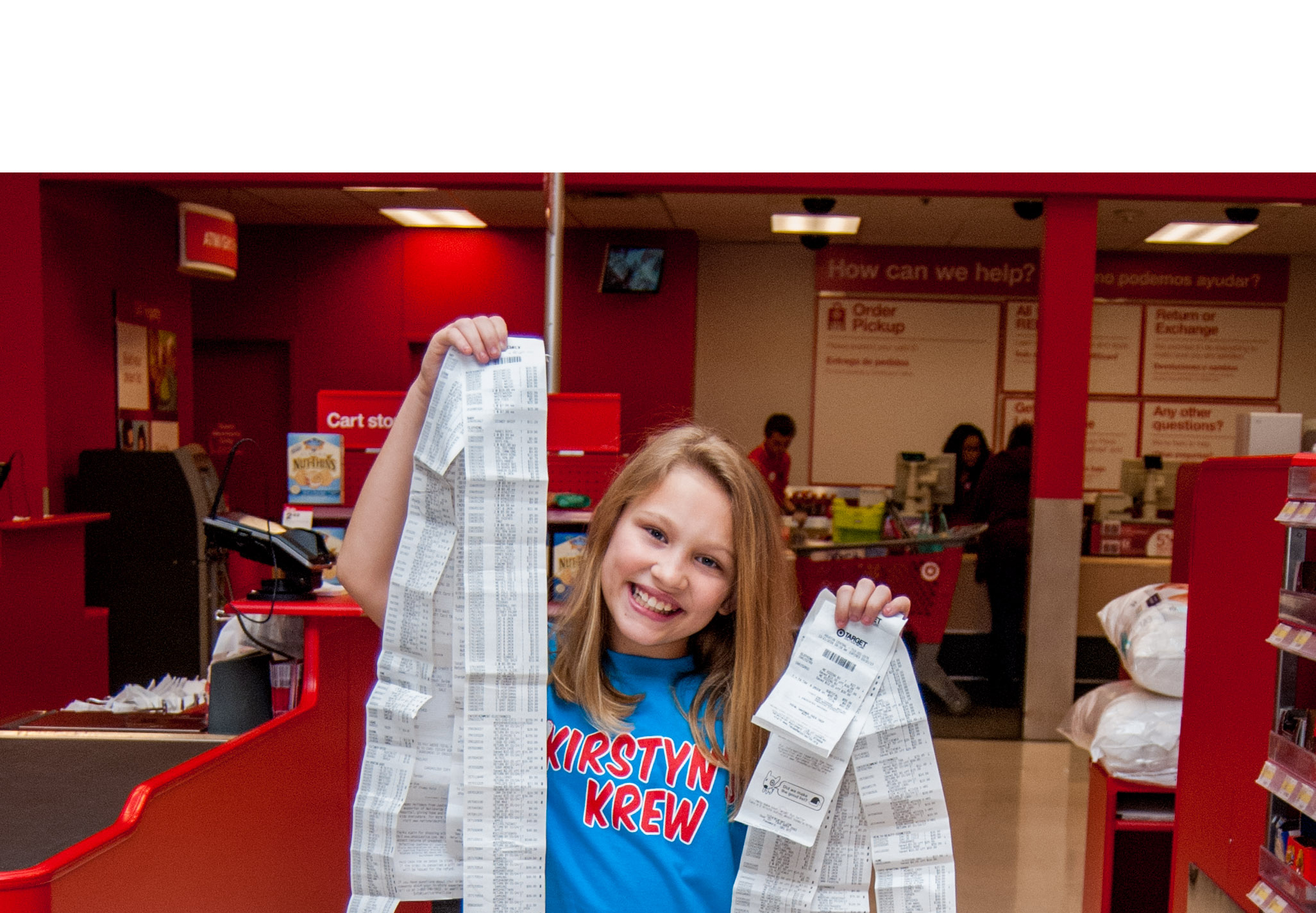 Mission
Our mission is to bring joy to children in foster care during the Christmas holiday by providing love and gifts!
Goals
Kirstyn's 2018 goal of $24,000 was almost doubled! She raised $47,000 and treated over 225 children in foster care to their very own shopping experience! 2019 brings a new goal of taking 150 kids shopping! As with each year, we hope to exceed the goal of $30,000.
"Please open your hearts and be generous."
Kirstyn jackson | founder
History
Kirstyn's Krew is a 501(c)(3) Non-Profit Organization that was started in 2015 by 10 year old Kirstyn Jackson. Because of her own personal experiences in her short life, Kirstyn decided to help spread joy to kids in foster care. She herself was in foster care before going to live with her Grandma and Papa. During that time, Kirstyn, like many kids in the system, felt a sadness at Christmas. Through Child Advocates, Houston Texan player Jon Weeks and his wife Amanda took a group of kids on a shopping spree to get whatever they wanted! Jon and Amanda's kind act has inspired Kirstyn to do the same for other kids that are in the position she once was. With a starting goal of $2000, Kirstyn started doing the work. She cleaned her room, cleaned toilets and even picked up dog poo. That got her to about $300. With Christmas fast approaching, she went to family and friends to invite them to be Krew members and donate what they could. With social media and very generous donors, Kirstyn quadrupled her goal and raised $8000. With Grandma's help, Kirstyn got in touch with Child Advocates and let them know she wanted to invite about 40 children to go on a shopping spree. She wanted the kids to know that people care. Some kids are unable to attend the spree due to various reasons, so she asked for wish lists for 20 of those kids and invited 20 others to a night of fun. Children chosen by Child Advocates, Depelchin and CPS were treated to a night of getting whatever they wanted. Every single child that was treated had necessities that most people take for granted; socks, clothes, luggage to move from home to home, and even food. Kirstyn and her Krew provided the needs of these kids and made sure that they all went home that night with toys as well. She wants the kids to remember to be kids and know that somebody cares.

This year Kirstyn's Krew wants to go bigger! Kirstyn's goal is to provide Christmas to 120 kiddos ($24,000). 100% of your donation will go to the kids. More can always be done and there are so many kids that can benefit from the love and joy Kirstyn's Krew is spreading!! As Kirstyn says, "Please open your hearts and be generous."